TAKISADA-NAGOYA-Owned Factory Manufacturing Dress Items Focusing
on Menswear Suits, Jackets, and Pants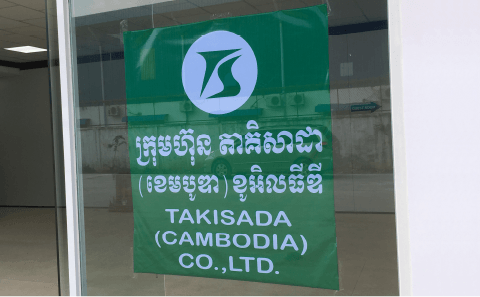 This TAKISADA-NAGOYA-owned factory manufactures dress items mainly consisting of menswear suits, jackets, and pants. Although the products are mostly exported to Japan, we are seeking to expand sales to other countries with the goal of the factory becoming independent. Located near to the border between Cambodia and Vietnam, TAKISADA(CAMBODIA) is able to import and export via Vietnam to reduce the shipping time. The company strives to provide total satisfaction to our customers by utilizing human resources, equipment, and environment to provide quality, on-time delivery, and prices.
Company Overview
Name
TAKISADA(CAMBODIA)CO.,LTD
Business Operations
Manufacturing of menswear suits, jackets, and pants
Established
Dec. 2, 2015
Representative
Shuzo Onishi
Address
TAI SENG BAVET SPECIAR ECONOMIC ZONE
NATIONAL ROAD NO.1, SANGKAT BAVET.BAVET CITY.SVAY RIENG PROVINCE.CAMBODIA
Capital
1 million USD
Employees
1,400 persons
Sales to
Japan and South Korea
Production Capacity
Suits: 11,000/Month
Jackets: 15,000/Month
Pants: 40,000/Month
Other

(1) Fabric inspection, sponging, and diagonal padding sewing machines
(2) Suits set and pants pleating processing
(3) Double-needle detection machines and assortment rooms (dehumidifiers)
(4) CAD/CAM and automatic stretching machines
(5) Third-party needle detection and product inspection functions