Sales of Various Textile Products
and Sundries Focusing on Women's Products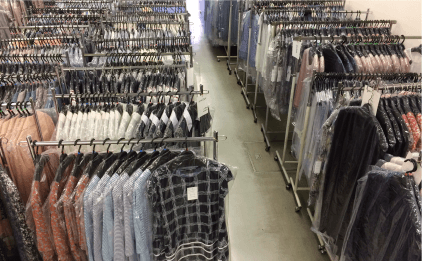 A supply chain capable of withstanding the large-lot production and low-cost requirements of major global SPAs has been developed throughout Asia with a main focus on China and Bangladesh. The cooperation between all departments, beginning with the International Trade Promotion Department, leads to an integrated offer of fabrics and products provided to customers from both inside and outside Japan. Based on deep analysis of the latest trends from Tokyo, Europe or the United States, and by combining design proposal and material development strengths, Gluck Japan offer and supply any customers with worldwide saleable products.
Company Overview
| | |
| --- | --- |
| Name | Gluck Japan Co., Ltd. |
| Business Operations | production and sales of various textile products |
| Established | May 2018 |
| Representative | Director and chairman Masaharu Iwata |
| Address | Head office: 13-19 2-chome, Naka-ku Nagoya 460-0003 Tokyo office: Tenoha Daikanyama & Life 607, 20-23 Daikanyama-cho, Shibuya-ku, Tokyo 150-0034 TEL 03-6825-6400 FAX 03-6825-6401 |
| Capital | 20 million yen |
| Employees | 14 |
| Sales | INDITEX GROUP (ZARA / MASSIMO DUTTI) and other major domestic and foreign SPAs. |
| Supplier | TAKISADA-NAGOYA CO.,LTD. |