1. Public open space
The green area of approx. 1290㎡ on the
south side of the Takisada Building is open
to the public as an public open space.
The trees, which change their appearance
according to the four seasons,
bring a breath of nature and moisture to the
scenery of the city where building
construction continues.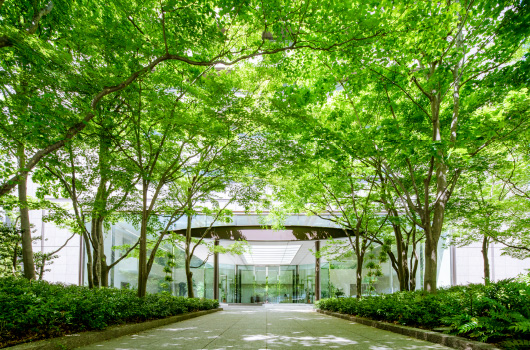 2. Reduction of environmental load
①Adopting a heat storage air conditioning system. Effective use of late-night electricity helps level power demand.

②We have implemented 100% LED lighting throughout the building to save energy.

③Large-scale solar power generation facilities (Kasugai City Aichi Prefecture) located the rooftop of TS LOGISTICS CO.,LTD. , contribute to the spread of renewable energy.

④We are working to save water resources. We are updating water-saving sanitary equipment (toilet bowls), automatic hand-washing faucets, and large-scale water-saving dishwashers in the kitchen.

⑤As a company that handles textile products, we are promoting the separation and treatment of fabrics and paper as recycled resources.

⑥We will promote the recycling of paper. We measure combustible waste and resource waste to visualize the separation.