Planning Solutions Based on Abundant Information
to Stably Provide Value-laden Products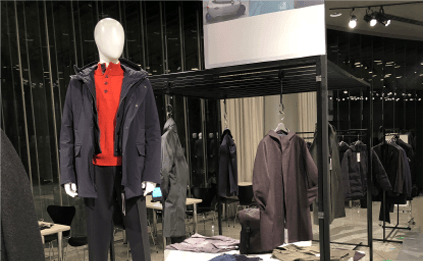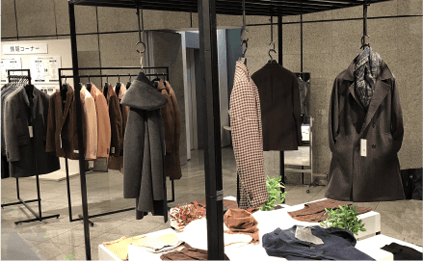 The Menswear Division mostly handles menswear dress items. This Division provides planning solutions as well as integrated development, production, and sales of original items based on the abundant amount of information collected at biannual menswear trade exhibitions and other sources.
The most important of these operations for us are our capabilities to propose solutions and maintain a stable supply. Our capabilities to propose solutions are due to the unrestricted framework of our global materials, accessories, and production sites, and free use of a wide variety of information from within Japan and abroad, such as that from periodic business trips to Europe, in order to provide our customers with value-laden products. Maintenance of a stable supply means that we can produce and deliver products with stable quality, reliable turnaround periods, and competitiveness.
Additionally, we can produce short-cycle small-lot products by assuming the material and capital risks ourselves. The production departments of this Division create paper patterns, introduce technology to factories, perform quality control, and possess all the requisite functions for rapidly starting production. In accordance with the requirements of customers from TAKISADA(CAMBODIA) and TAKISADA(HONG KONG), we have created a system capable of direct delivery not only from within Japan but also from overseas production bases, resulting in a high degree of satisfaction among our customers for this ability to respond according to the product sales channels.
We will continue to place great importance on independence and autonomy by continuing to cultivate human resources capable of independent thought and action, and also strive to grow our operations by expanding sales not only in Japan but also through sales channels from TAKISADA(CAMBODIA) and TAKISADA(HONG KONG) to other sales channels across the globe.